distybox 300
Cordless solution for connecting analogue terminals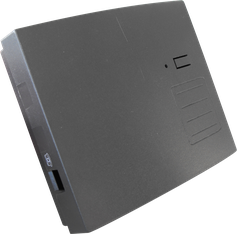 The distybox 300 has been developed especially for the home and small office sector and is easy to configure using a normal analogue telephone.
Possible areas of use
Analogue terminals, such as those listed below, can be connected to DECT/GAP telephone systems or existing cordless phones:
Fax machines, telephones, answering machines
Modem (up to 9600 bit/s)

The distybox300 also provides you with solutions for many other areas:
Door intercom systems without the need for additional TC equipment
Transmission of measurement values for telemetry applications
Transmission of signals, e.g. alarm sensors
Connection of data terminals, e.g. points of sale (POS)
Enhancements
Further features by parameter change.
Distybox_Erweiterungen_GB_V17.pdf
Adobe Acrobat Dokument
49.8 KB
Technical Data
DECT (Digital Enhanced Cordless Telecommunications)
GAP (Generic Access Protocol)
Automatic registration on the DECT base station
Plug and Play
CLIP (calling line identification presentation)
Dialling procedure: DTMF
Internal relay capability
Internal aerial
Frequency range: 1880 to 1900 MHz
Transmission output: 10 mW on average
Voice transmission: 32 kbit/s ADPCM
Group 3 fax, V. 29 max. 9600 bit/s
Modem mode: max. 9600 bit/s