distyNotruf [Neo/Pro/Stationär]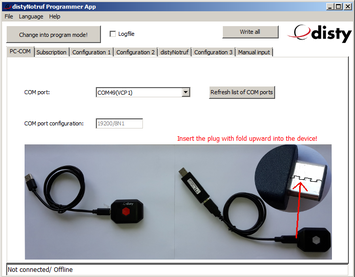 Programmer App for distyNotruf [Neo/Pro/Stationär]
Latest version for our new products.
Functions with Programmieradapter or integrated USB - chip (e.g. distyNotruf Neo), see picture at tab "PC-COM".
For more details please read file 'Readme_Installation.txt' and Operating Manual 'BA_ProgrammApp_V1-0_220518-GB.pdf'.
ProgApp_2.1.zip
Komprimiertes Archiv im ZIP Format
6.2 MB
Programmer App for distyNotruf & pro (from version xy1412 onwards, with announcement phrases)
Here you can download the programming app for the distyNotruf and disty Notruf pro. This is used to configure the device, e.g. to change the emergency numbers.
ProgApp_1.2.2.zip
Komprimiertes Archiv im ZIP Format
1.1 MB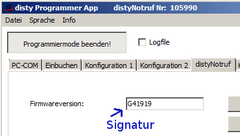 Check the signature aka 'Firmwareversion' for usage of the appropriate ProgrammerApp.
Programmer App distyNotruf + pro
this APP is to program distyNotruf + distyNotruf pro.
By using this App you can adjust parameters and program the alarm numbers.
Attention: you need our "Programmieradapter"
(does not work together with disty-guard)
ProgApp_1.0.2.464.zip
Komprimiertes Archiv im ZIP Format
1.1 MB